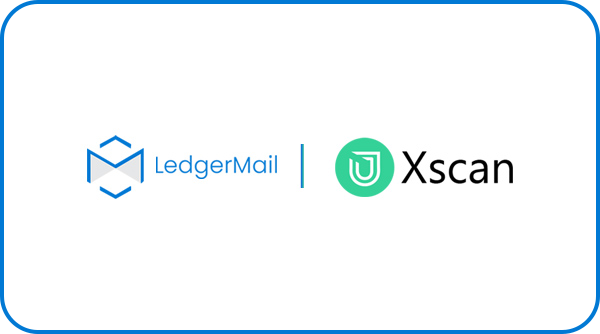 LedgerMail – the world's first Decentralized Email Service joins hands with the multi-chain Blockchain Explorer Xscan powered by Unmarshal for enabling users to verify email transactions using human-readable wallet IDs and custom usernames. Now each email header will be equipped with a verifiable transaction hash eliminating the possibilities of Email Spoofing & Tampering attacks.
LedgerMail allows users to perform blockchain-based wallet-to-wallet transactions where the transaction hash of each email transfer is stored on the immutable ledger of a public blockchain network. Users can verify these transactions while getting relevant insights using Blockchain Explorer of Xscan.
When the sender transfers email through LedgerMail, the email gets cryptographically encrypted with an asymmetric key sharing mechanism where the receiver uses his self-sovereign private key to decrypt & read the email. To prove the legitimacy, authenticity & immutability of this email exchange, LedgerMail provides the transaction hash of this transfer to both sender & recipient in the email header.
One-tap click on this Transaction Hash will redirect users to the multi-chain Blockchain Explorer of Xscan. User will be provided with all the relevant details such as Transaction Status, Block Height, Blockchain Network, Timestamp, Sender/Recipient wallet ID, Transaction Fees, and a customized Transaction Type such as SentMail.
"LedgerMail is simplifying the Web3 experience of users by providing a unified platform to transfer digital assets. With the integration of Xscan to verify these on-chain transactions, we are marching towards building a transparent, privacy-first & secure Decentralized Email Service.", quoted Mr. Suraj Mulla, Vice President of Sales & Marketing.
As LedgerMail resolves the wallet IDs with human-readable usernames for simplifying the transfer of digital assets, users can use these usernames for fetching their Transaction History & Token Balance through the multi-chain blockchain explorer of Xscan. Instead of remembering complex wallet IDs, users can simply use their LedgerMail usernames for fetching their on-chain data. Xscan also enables users to generate passive income through an automated DeFiEarn service which fetches the token balance of the user & recommends the potential yield opportunities.
"We're really happy about partnering with the world's first decentralised Email service – LedgerMail. Xscan has added customised decoding for their email transactions to enable better email tracking. We are tremendously happy that Xscan is a part of the stepstone for moving people to the decentralised world." quoted Ms. Anusiya Shekar, Head of Product – Xscan.
Along with this, as LedgerMail has enabled Sign Up using DNS providers, the LedgerMail users can use their DNS usernames to verify transactions, get token balances & review transaction history.
This partnership will keep unlocking innovative ways of simplifying user experience in the Web3 space and enable users with a hyper-personalized experience in the coming days.
About LedgerMail:
LedgerMail is rendering the traditional ways of communication through obsolete & cumbersome platforms while providing the highest level of security, encryption, privacy, decentralization, and protection from cyber-attacks. LedgerMail is the world's first Decentralized Email Service which inherits the capabilities of Blockchain Technology to spearhead Web 3.0 communication protocols.