Empowering
Secure Communication for
Individuals and Enterprises
Discover Our Suite of Cutting-Edge Solutions for
Uncompromised Privacy and Data Security
Powered by BLOCKCHAIN TECHNOLOGY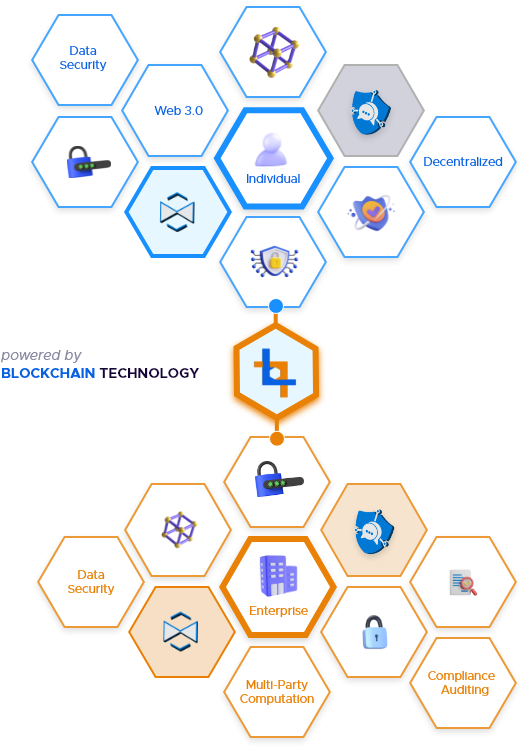 What we do
At our cutting-edge technology company, we are at the forefront of innovation, dedicated to developing secure communication services that redefine the way individuals and businesses communicate. Our solutions are expertly crafted with a steadfast commitment to protecting your privacy, upholding data sovereignty, and guaranteeing your absolute satisfaction.
Our offerings for Individuals deliver decentralized, web3.0, and secure communication services powered by Blockchain. In contrast, our solutions tailored for Enterprises guarantee data sovereignty, data security, data privacy, auditability, robust key management, compliance, and secure communication services, all driven by Blockchain and Multi-Party Computation.
At present, we offer two secure communication solutions: LedgerMail and LedgerChat.
LedgerMail offers two versions: one for Individuals and another for Enterprises, both prioritizing data security and privacy. LedgerMail for Individuals provides secure Web3 email powered by the Blockchain. LedgerMail Enterprise enhances security with private blockchain technology and advanced Multi-party Computation (MPC) for key management, ensuring top-notch data security, data sovereignty, and audit capabilities.
LedgerChat Enterprise, on the other hand, exemplifies a Blockchain based communication service that empowers you to engage in private conversations with anyone, regardless of their location. Your messages are safeguarded through encryption both during transit and at rest, assuring your perpetual privacy.