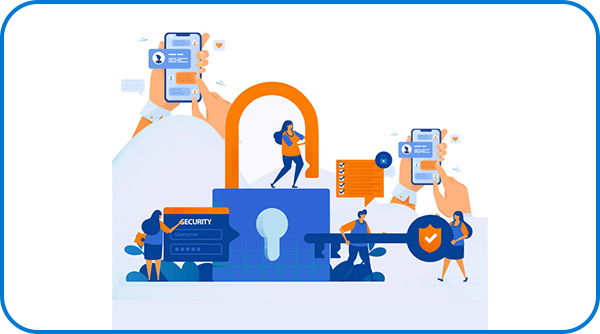 LedgerChat for enterprise is an ideal solution for businesses that need to keep their sensitive documents and data secure and comply with internal and external regulatory requirements. It offers end-to-end encryption and secure data transmission to protect business data and ensure confidentiality. Moreover, it can be used to securely share documents and maintain communication with clients, as well as other third parties.
Industry Specific Use cases
Here are some industry specific use cases of LedgerChat for enterprise:
Government Agencies
Government agencies need to be able to communicate securely between internal departments and with external parties. With LedgerChat, they can ensure any sensitive information remains secure throughout its transmission.
Financial Institutions
Financial institutions can use LedgerChat to enable secure, encrypted messaging between internal departments, and with business customers. It allows for both real-time and asynchronous communication, so confidential financial information can be sent with full confidence of security. LedgerChat is also compliant with a variety of regulations, making it a valuable tool for financial institutions that need to protect sensitive data.
Law Firms
Law firms can use LedgerChat to ensure that confidential client information is secure when sending and receiving messages internally and with external parties. This helps to ensure that communications remain private and secure and that any compliance requirements are met.
Hospitals, Labs, and Clinics
Clinical staff at hospitals and other medical establishments can use LedgerChat to maintain HIPAA compliance when they discuss patient information. Encrypted messages help ensure patient data is kept secure, while still facilitating the exchange of information between clinical staff.
Security Agencies
Data security is important in any organization, but especially in the Security Agencies such as Defence, Intelligence, Police etc. The security of confidential data is essential to protecting the safety of citizens, national security, and the integrity of defence and law enforcement operations. LedgerChat helps protect sensitive data from unauthorized access, ensuring that only authorized personnel can access and use the information and also helps protect data from accidental or malicious destruction, ensuring that critical information is protected.
Generic Use case
Other than above use cases, LedgerChat can be utilized by companies of all sizes and industries for various functions. Below are some of the ways the organization can benefit from using LedgerChat:
Leadership Team
LedgerChat can be used by the leadership team (e.g. C-level people, Directors…) of an enterprise to have real-time communication over secure, private messaging. It provides the ability to securely send and receive critical information with other members of the leadership team, enabling quick decision making with up-to-date information. Furthermore, it allows for easy sharing of files and multimedia content securely. LedgerChat is integral to the success of many enterprise leadership teams by making communication more secure and efficient.
Legal Teams
Legal teams can use LedgerChat as a secure way of exchanging confidential information, such as legal contracts and documents, among members of the firm, attorneys, and other stakeholders. The application provides end-to-end encryption, so sensitive documents are kept private and secure from anyone outside the conversation.
Human Resources
HR departments can use LedgerChat for confidential conversations with employees. The app offers a secure way for HR teams to share sensitive information like employee records, salary data, and performance reviews without the worry of data breach or intrusion.
Project Managers
Project managers can use LedgerChat to maintain secure communication with their teams. Project sensitive and confidential tasks can be assigned and discussed over a secure platform, allowing project teams to safely share data and progress reports with complete privacy.
Various Communication usage inside Organization
LedgerChat can be used for a wide range of internal and external communications within an organization, providing the highest levels of data security and privacy. Different types of communications that can be facilitated by LedgerChat includes:
Employee communication
LedgerChat, with its secure encryption and data transmission, can be used for internal employee communications to ensure that data is kept secure.
Client management
LedgerChat can be used to securely send messages to clients, as well as any other third parties, to stay compliant and prevent any sensitive data from being leaked.
Cross-functional collaboration
LedgerChat provides end-to-end encryption and secure data transmission, making it the perfect tool for businesses that have teams that work with numerous stakeholders from multiple departments.
Regulatory compliance
LedgerChat can ensure that businesses meet internal and external compliance regulations as it encrypts and stores data in an fully auditable fashion.
Secure document sharing
LedgerChat can be used to securely share documents such as contracts, NDAs, and other sensitive information with both internal and external parties.
Summary
LedgerChat is a valuable tool for businesses of all sizes and industries that need to protect sensitive data and comply with regulatory requirements. It is easy to use and can be integrated with existing systems, making it a cost-effective solution for businesses of all sizes.
If you are seeking a secure messaging platform that enhances communication and collaboration, consider LedgerChat. It offers numerous benefits to businesses, including heightened security, improved collaboration, reduced costs, and increased productivity.